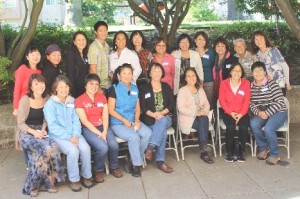 KimR writes: The origin behind a San Francisco Adoptee Reunion goes all the way back to our fellow Hong Kong adoptees living in New Zealand. A big thank you to the New Zealanders because they started the reunions. Over 30 of us went to the first Hong Kong reunion in the Fall of 2010. Before leaving, a vote was taken to hold the next reunion three years later in San Francisco.
Having helped on the 2010 reunion, Mei Yan and I weren't too keen to work on another. But duty calls and Debbie, our half-pint size, but fearless British adoptee leader said she was coming and bringing Sue and Serena. So that settled the matter.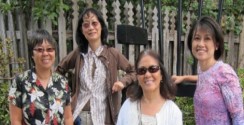 Fortunately, we met KimB and Mei Kin in 2013 and they jumped right in to help us organize the reunion. The two Mei's and two Kim's met several times in Berkeley to plan and taste test restaurant food. Mei Yan reserved a free meeting place in her condo complex. We thought this was perfect since Berkeley offers Bart trains and two airports, San Francisco and Oakland.
We set the date for October 12th weekend because Columbus Day made it a 3-day weekend. It was also a good date for our Canadians, Barbie-Siu and Jemma as it's their Thanksgiving holiday weekend. And we had a lot to be thankful. The weather was California perfect. 20 adoptees and 10 guests attended. Too bad we had a looming Bart strike and Federal shutdown. But as the Brits say,"Keep Calm and Carry on!"
The reunion began for

some on Friday, October 11th. Mei Yan gave us a tour of UC Berkeley. We ended the day with a scrumptious Japanese Ramen Noodle meal. Breaking with reunion tradition, we're proud to say that we purposely managed to avoid eating Chinese food the entire reunion weekend!
On Saturday morning, KimB arrived with an SUV full of breakfast and lunch food. Thanks to all those who pitched in to make this reunion a success. We had a Sharing Table. Many brought things to show each other. This tradition we learned from the British reunions.

After breakfast and mingling, we played our "Step-in game" which we learned from Amanda at the 2010 HK reunion. Those from Fanling Babies Home had a spontaneous football huddle and cheer during the Step-in game. We're impressed to learn that two of the adoptees can speak Cantonese. The rest of us are no doubt envious.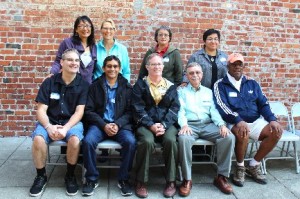 Then it was time for photo taking.   We drafted Serena to be our photographer.   Due to the position of the sun, we have what we call our "jail house photos" of family and friends in front of the brick wall.  After lunch, we retook the adoptee group photo since Jemma had finally arrived after getting lost in San Francisco.   The lunch bonded us further, as evidenced in that we made such a ruckus during the 2nd photo shoot that we got yelled at by a condo resident to turn down the volume!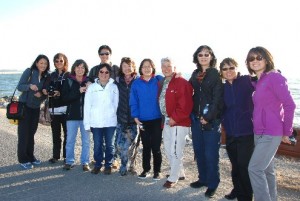 Everyone agrees that the afternoon circle sharing session was the most memorable. We all promised that as the American saying goes, "what happens in Vegas, stays in Vegas." That means we honor the confidentiality of what was shared. We ended Saturday with a walk around the marina and an "awesome" meal at Anh Hong Vietnamese restaurant in Berkeley.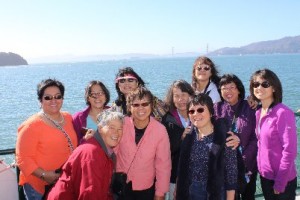 Sunday morning, 11 of us took the ferry to Angel Island from Tiburon while 3 took the ferry from Pier 39 and Kathy took the ferry from Pier 41. Mei Yan took some on a strenuous walk around the island while wiser souls like myself took the tram tour. Miraculously, we all eventually met up at the Immigration museum at the same time.
The weekend flew by too fast and it was sad to see our newfound adoptee friends dispersing back home. But we hope to hold the next reunion in Hawaii, Las Vegas or Florida. In the meantime, we promised to hold group skype concalls the first Saturday of each month at noon California time.
For many this was their first adoptee reunion.  Once you've experienced one, you'll never want to miss another reunion.  If you're from a Hong Kong orphanage, we truly hope you join us on our next skype concall and see you at our next adoptee reunion too!  Contact us at hkadoptees@yahoo.com

-KimR