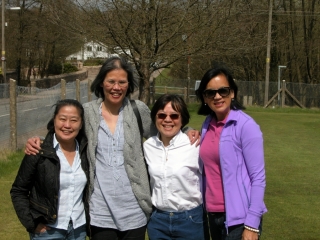 Sara and I had been travelling companions in September 1961, Sara was 13 months old,  and I was 26 months old when we left Hong Kong for England.  We were met at Heathrow Airport by our adopted parents for a new life which was going to give us all the advantages of the westernized world!  I had managed to find out that Sara now lives in Australia but her sisters and family still in the UK so it was only a matter of time that we would meet.  I had always wondered what had happened to the girl I came over with and It was with the help of Karen also pictured here that I had been able to trace Sara.
What a momentous day it was!  We met in the Forest of Dean on a lovely summers day.
Believe it or not her adopted sister Fran and I had met in Hong Kong at the CAAWR Reunion in 2010 when they just happened to be passing through to celebrate their sisters 50th birthday in Australia!
Picture from left to right; Fran, Karen, Debbie and Sara.