Blog post by Jessica Emmett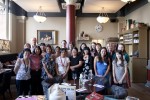 Typical, me and Kat (my husband) were late. Despite living in the UK for a while, I've always found London a daunting jungle. I wasn't sure if I was going in the right direction lost in St Pancras station. I don't think i've ever been to an event in a train station, which is where the Betjeman's Arms apparently was. We finally find it tucked away, phew! I have met adoptees before, but this was only the second time i'd been to a HK adoptee specific  event before, the first being the Oct. 2011 Birmingham UK HKAN reunion. Despite meeting some of the adoptees before I was still nervous. Was that because I'm always a bit uncomfortable in large groups of people or cos I was excited to meet HK adoptees, maybe a bit of both.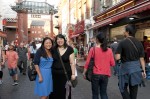 Most people had already arrived in the privet room in the venue and were talking. I was welcomed by new and old faces. It took me a while to settle in. Before the event started it was really it was very nice for me to finally meet Kate. B as she was one of the first HK adoptees i've met my age, being born in the early 1980's, and with a surprising similar history to myself. Most of the adult HK adoptee's i've meet have been born in the 1960's & 1970's, but not to say I don't get on with them any more than people my own age =P.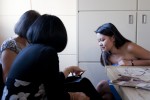 You know, I keep thinking back to the event, and I struggle to remember what order we did things. I guess stuff like this is always a bit of a blur. I remember we all sat down and we all introduced ourselves quickly. It was nice to actually get a sense of people's connection to adoption and what they do now. It was quiet funny as we were doing it the food arrived early! It's not every day you can say that, so it was interesting trying to hear the interesting stories people had while being distracted by kick ass food =P lolz.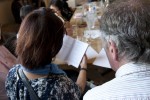 With intros over and food on the table we all just started to break off into little groups and talk. I talked to people about all sorts, not just adoption stuff. Some people hand brought documents, articles and old photos to share. We also had two guests, Alan Dibden (a relative of Mildred Dibden who had help set up orphanages in Hong Kong and has an important meaning to many HK adoptees), and Julia Feast who was part of the BAAF British Chinese Adoption Study (BCAS). It was great getting to know people, and I always think there just is never enough time to talk to everyone. The lunch seemed to fly by. Before anyone had to leave we made sure we take some group photos, the staff at the venue where great helping us take photos and being swamped by transracial adoptees lolz.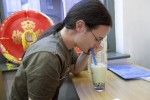 It was time to leave the venue. Not everyone could stay which is completely understandable. It can be a very intense experience & people have to live their lives. A few off us went on to have a mini adventure on the underground to China Town. It was hoooooot that day, I did feel like I was going to melt o_O, so I was thankfully we got some cool drinks, oh I wish I could remember the place, it did all the kinds of crazy Chinese drinks with beans in the bottom and milk shakes and stuff. It was a shame that were split over 2-3 tables, there were busy. We finally headed off to a Chinese restaurant in China Town. We got yummy dim sum and just shared all the food in the middle. We just chatted more and that's it, the day flow by.
I wish i could convey how important these reunions are to me. All i can do here is simply just write down what we did, which doesn't sound much more than eating, drinking, walking & talking… but it was much more, it was the building of connections and not feeling so alone in the world.
I hope to meet, connect and talk to more of you in the future even if we can't physically meet in person. *adoptee hugs*
___
* Some people don't know emoticons & internet speak I use sometimes so here's a Key
=) Smiley face
=P Sticky outty tongue face
o_O raised eyebrow face
lolz Laugh out loud