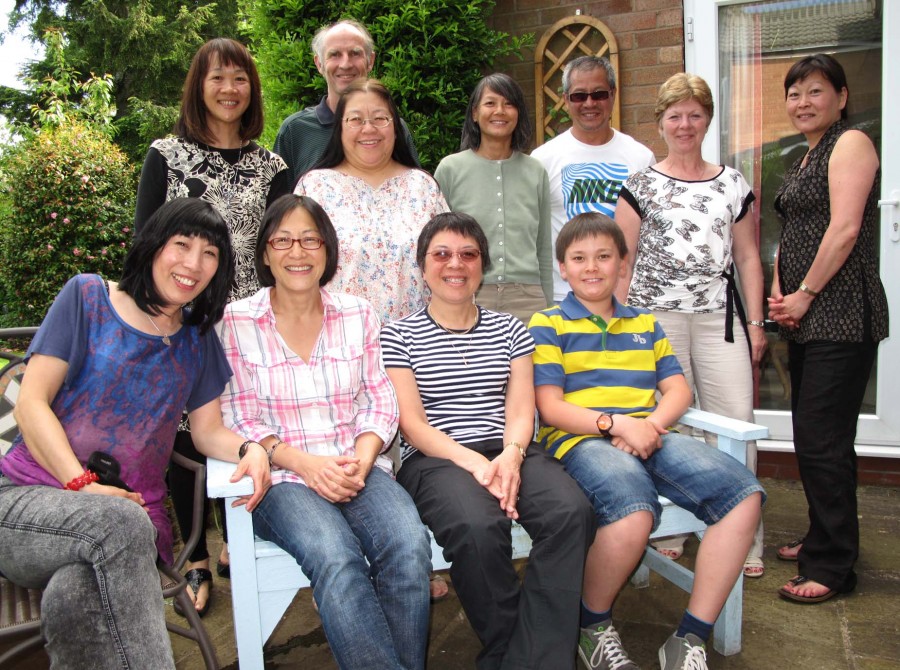 It was certainly a pleasant surprise to have fabulous weather when a few of us met, at my mother's house in Cheshire whilst she was on holiday.  This event became 'a sleepover' or a 'PJ weekend', as many had to travel some distance.   Who would of thought that grown women in their late 40's and 50's would be doing this, especially when it is usually associated with children or teenagers having friends to stay!  Haven't we come along way sisters (brother), the bonding that is going on is just so electrifying since we all started to find each other.  I can hardly describe the immense pleasure and excitement that it has given me to say that I haven't been moved by those who came is an understatement! This event was so special to me as my mother had offered me the use of her house over a year ago as she knew living in Carlisle had its restraints and the family house was so much bigger for such an event to take place.  Thanks Mum!
Personally I would like to thank all of you who came and shared this unique experience, yet another milestone, watch this space for another organised event but at a different location…
Below are accounts of the wonderful summer's day:
A TRIP TO HALE BARNES, ALTRINCHAM IN MAY 2014
Written by Serena S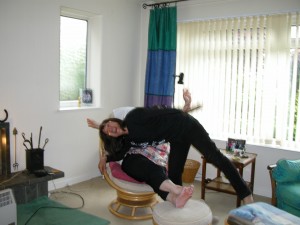 I was excited and looking forward to spending some time and having a long weekend with some HK adoptee brothers and sisters at Debbie's mum's house in Hale Barnes, Altrincham. Thank you, Vanessa. I arrived on Friday and was picked up by Debbie and Janet from Altrincham Station to go food shopping for the troops.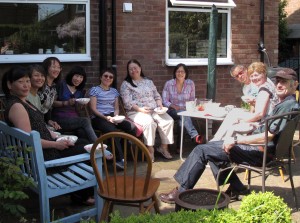 In the evening we chilled out, did some catching up and chatting about all the wonderful homemade food Janet had prepared and the enormous steak pie Debbie had bought for the weekend. Saturday morning food was prepared. Joanna and Peter were the first to arrive, Sue, Jan, Kwai and her young son Alex, finally Pete and Lynne.  We all enjoyed the lovely sunny day eating lunch outside.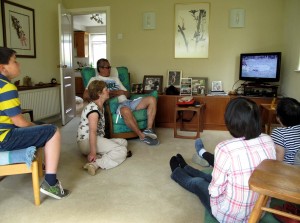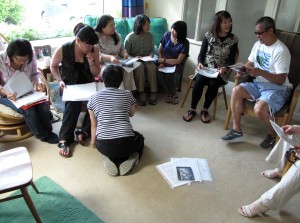 After full stomachs, we went indoors to view Pete's DVD of his family in Hong Kong where they picked up Pete and his sister at 'Fanling Babies Home' in Hong Kong where they were bought up. It was a real insight as to what it was like to be there, especially seeing the surroundings of the home.
After viewing the DVD, this encouraged us to chat and bring out our photographs, documents and write-ups from our parents. I always like to see and compare notes, with other Hong Kong adoptees and hear each individual story. I really enjoyed getting to know Janet, Jan, Joanna & Peter, Kwai, Debbie, Pete & Lynne more and hearing about their upbringing and family background.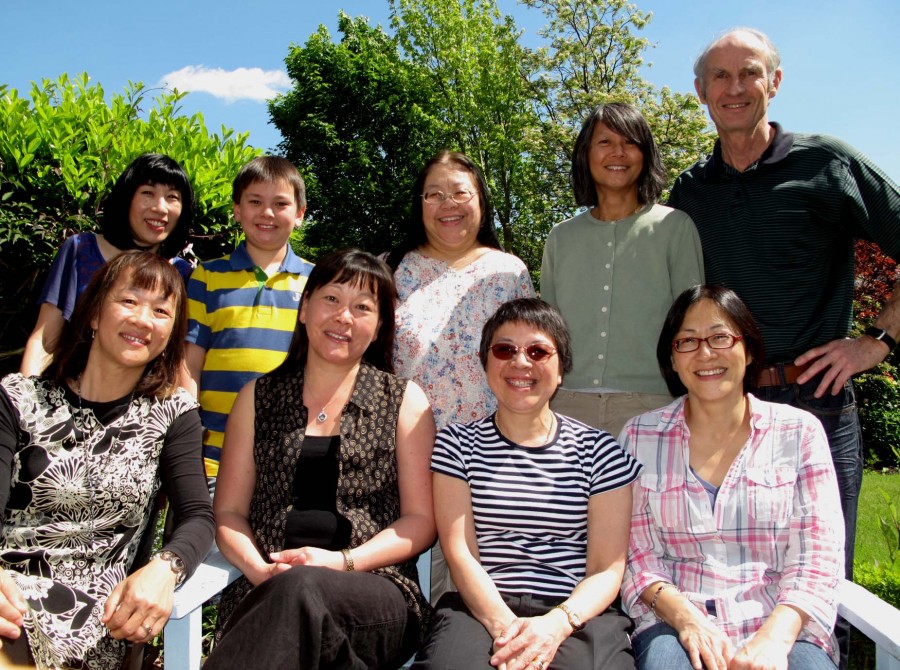 Saturday late afternoon Joanna & Peter, Pete & Lynne made their way home. While we enjoyed the warm evening sun relaxing and preparing the evening meal which was to be the famous huge steak and kidney pie! All very yummy. Kwai and Alex said their goodbyes.
The rest of us went for a local stroll admiring the nice houses listening to the sound of singing birds and to exercise our legs. We walked passed Debbie's old Primary School and where her Grandma lived. In the evening we chatted more about how the day went and retired to bed 11-12pm ish.
Sunday morning we had a wonderful breakfast, I couldn't resist having a cup of Janet's home-made vegetable soup!  Then Jan, Sue and I got packed ready to go home. Debbie and Janet came with us into Manchester on the tram, this was a first for Janet as she had never been to Manchester or rode on a Tram. We said our sad goodbyes, as Sue and I boarded the coach to London.   Debbie, Janet & Jan then went off to Piccadilly Station where Jan was to get her train to Cardiff. I am really looking forward to our next mini get together with our Hong Kong adoptees sisters in Brighton.
Janet's first visit to Manchester and ride on the Tram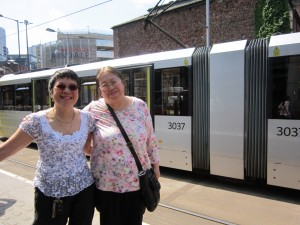 WHAT THERE WAS TO EAT !
Written by Janet M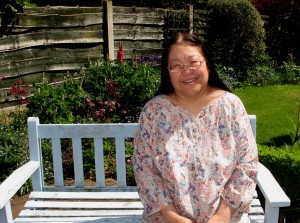 The catering and eating formed part of the fun, with everyone joining in the preparation, placing out the food and, of course, eating it!  A number of folk asked me about ingredients for the homemade things (though anyone who cooks probably knows!) so this paragraph is by way of a "souvenir", reminding those who came what they enjoyed. Debbie organised the catering (and of course the whole weekend), so a big thank you to Debbie, and to Serena and everyone who helped; Debbie, Serena and I did a big shopping trip on Friday for Saturday's meals. Thanks also to Linda who unfortunately couldn't come but provided chutney and marmalade – I could hear people sampling them but I was too into the Oxford marmalade which was my top favourite!
I catered for the evening tea and supper on Friday which was required to be vegetarian: Vegetable soup (onions, carrots, celery, leeks, water, salt, pepper) Bread (white and brown flour, in bread machine) Vegetable pate (white button and porcini mushrooms, 20-year old port, fresh parsley, salt, pepper) Fish pate (salmon, lemon juice, cream cheese, pepper) Vegetable lasagne (béchamel sauce with sprinkled mozzarella and cheddar cheese, 'ragu' sauce [base of mirepoix, pureed tomatoes, minced garlic, Italian red wine, salt, pepper, Worcestershire sauce, vegetable stock, fresh basil, milled brown rice], onions, roasted/de-skinned peppers, courgettes, carrots, petit pois, pasta sheets ['00' flour, eggs]) I'd provided pudding (meringues, raspberries, fruit coulis) but we were too full so it contributed to the next day's buffet.
For the buffet lunch on Saturday: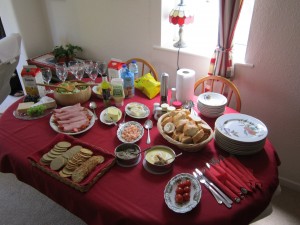 Serena prepared the salad and beautifully presented it (lettuce, cucumber, celery, tomatoes, cress, spring onions), dressed with a Northumbrian honey and Dijon mustard vinaigrette; a (bought) French vinaigrette was available for top-ups.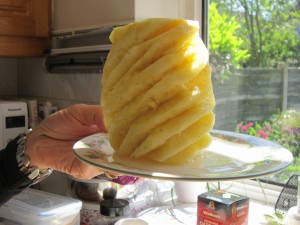 Vegetable pate and salmon pate (as per Friday) Bread, crackers and oatcakes to accompany the pates, Prawns, Hard-boiled eggs, Honey-roast ham, Aioli (garlic mayonnaise) to accompany the prawns, eggs and ham, Cheeseboard with mixed grapes, Kettle crisps, Rice cakes, Condiments including tomato chutney made by Linda. Various fresh fruit juices, elderflower cordial, coffee, and Debbie brought a nice and wide range of teas,
Pudding: meringues, fresh raspberries, fruit coulis (mostly raspberries plus strawberries, redcurrants, milled sugar) and double cream. Serena and Debbie prepared a colourful and delicious fruit salad which included fresh strawberries and kiwi fruit; Debbie artistically carved the fresh pineapple (see photo).
For the evening meal on Saturday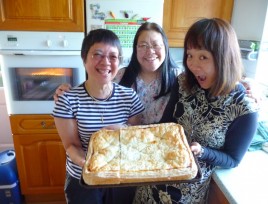 Steak pie brought by Debbie (see photo) Fine green beans, New potatoes, Beef gravy with red wine and mint Fruit juice to drink
For the breakfast on Sunday
Remains of the fruit salad and fruit coulis Various cereals Toast with three marmalades made by Linda (Oxford, Tangerine, Three fruits), One of us had vegetable soup! Tea, coffee & fruit juice.
Thank you to Janet, Serena and Debbie for the photos.  Photos are for the use of the website only or personnel use.