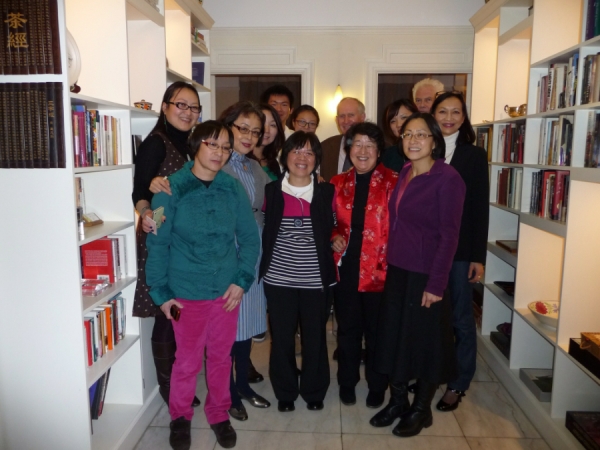 Kate, Debbie and I emerged from Queensway tube station, to promptly go in the wrong direction. I have to say this was under my instruction. Debbie was saying she thought it was the other way, and she was right!
Fortunately Xinran's home is very close to the station, so we didn't have far to go. Xinran if you don't know is a famous Chinese author (you can find a list of her books on Amazon) and the reason why we had been invited, along with Jasmine, Claire and Lucy, to meet her was because she heard us speak at the BAAF book launch in January. Xinran has set up a charity called Mother's Bridge of Love (MBL), to provide 'a bridge between China and the world; primarily for British families, who have adopted children from China, who want to learn more about the culture their children come from and share experiences with other families who've adopted children from China.'
Our invitation to Xinran's home was, from what we could gather, a meeting place for us to talk about ways in which we could support her organisation, because of our experiences of having been adopted. It turned out to be so much more than this as we were also invited to have Chinese tea with her. When arrived we were greeted by Xinran and a number of student volunteer workers. In fact there were 15 of us in total! It was so lovely to meet such welcoming and talented people – the students are studying subjects such as global Chinese economy at King's College, and of course their English is brilliant! For Chinese tea we were given 3 types of tea and there were a selection of Chinese (and French) biscuits. In the centre of the table was a bunch of daffodils – common to us as an indicator that spring has arrived, but also, as we found out, in China the white daffodil is a symbol of wealth and good fortune and is grown especially for the New Year.
We were all invited to talk about ourselves and while we were doing this a surprise was being set up for us. Xinran presented us with a 'gift', which was an amazing performance from one of the students on a Chinese Erhu played by a young Hong Kong boy who is a third year student at the Royal academy for music. He played a piece of music called Hope! It was a very moving experience.
Eventually it came to the point where we needed to drag ourselves away from Xinran's home as it was getting quite late. With great reluctance we left, but in the knowledge that a friendship has been established between UK HKAN and MBL.
Written by Sue Jardine
Links
Xinran's publications include 'Good women of China (2003) and Message from an Unknown Chinese Mother: Stories of Loss and Love (2011)
http://www.amazon.co.uk/s/ref=nb_sb_ss_c_0_6/275-4657255-9076252?url=search-alias%3Dstripbooks&field-keywords=xinran&sprefix=xinran%2Caps%2C178
Mother's Bridge of Love website