THE GRAND TOUR by Debbie
followed by Serena and Janet's accounts
(A Northern Incursion into the Southern Counties of England)

As most of you know I live in the far North of England near the city of Carlisle and close to the border with the rebellious Scots.  So you can imagine how delighted I was to find Janet another sister who lives even further north than me in Northumberland when we both attended the first BAAF meeting.  Since then we have met regularly at our famous halfway meeting point a tea-room near Hexham and during a recent chatter session we decided to visit as many of you in the South of England as we possibly could.  Shortly after this the planning began in earnest and with military precision Janet plotted the location where every sister lived on a detailed map of the country but she cunningly left the logistical arrangements to me.   The rest is history and before I knew it I was contacting you for our Grand Tour.  A big 'Thank you' to: Joanna, Serena, Sue and Janet's sister Liz for allowing us both to stay in your homes. I also wish thank:  the two Jasmines' and Claire for feeding two weary travellers.   We thoroughly enjoyed your hospitality and it really helped us to keep the cost down.
Tuesday 8th July
During the morning Janet travelled to my home and during our last minute preparations she carefully marked the obligatory tea-stops on the map every twenty or thirty miles along the entire length of our proposed tour.  Later that morning we headed down to a Premier Inn in Corby, Northants where we were met by the lovely Yan.  We all enjoyed a lovely meal together at the Angel Inn and indulged in our usual incessant chatter, I don't think we drew breath until we retired to bed.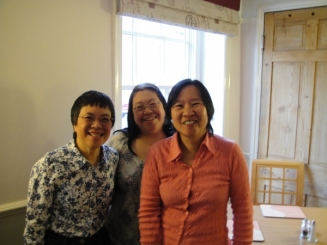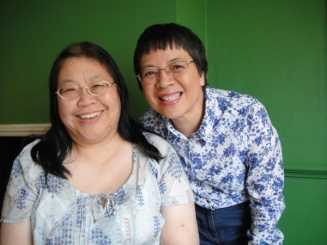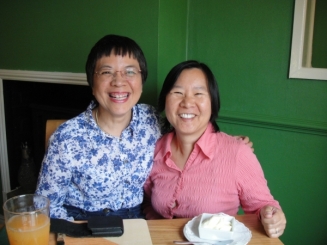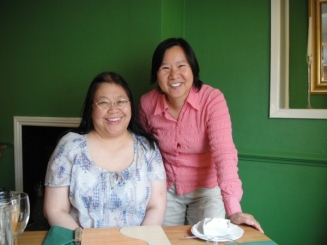 Wednesday 9th July
Off to Chichester to stay with Joanna but before we arrived we stopped off at Bosham which is traditionally believed to be the birth and burial place of King Harold the last Saxon King of England.  This place was very picturesque and one of Janet's old haunts!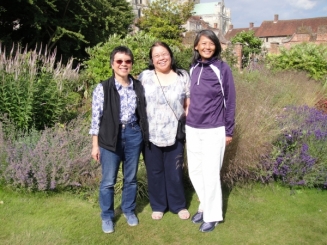 When we arrived in Chichester Joanna treated us to a lovely guided walk around the city with its stunning Cathedral and the beautiful Bishop's Palace Gardens.  Where we managed to obtain some wonderful photos which was followed by a meal at Joanna's house!  Thank you, Joanna.
Thursday 10th July 
We met Beccie from the Isle of Wight in Portsmouth and we looked round The Mary Rose Museum where a Tudor warship that sank in 1545 and was raised from the seabed in 1982 is housed.  It was a fascinating visit but no meeting of sisters is complete until we share a convivial meal together in a Chinese Restaurant!  (Picture to come later)
Friday 11th July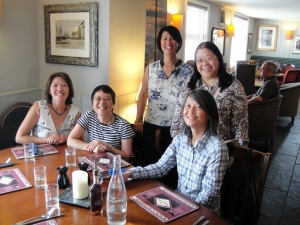 Upon our arrival in Bournemouth Jasmine very kindly arranged a lovely lunch at a local pub and to my delight Joy from Weymouth joined us for the meal.
After another good meal and plenty of chatter  we walked down to the beach and visited the Marriott Hotel on the Sea front (See Pic) another of Janet's old haunts.  We walked through the gardens before going back to Jasmine's for a High Tea where we were treated to some fine home baking.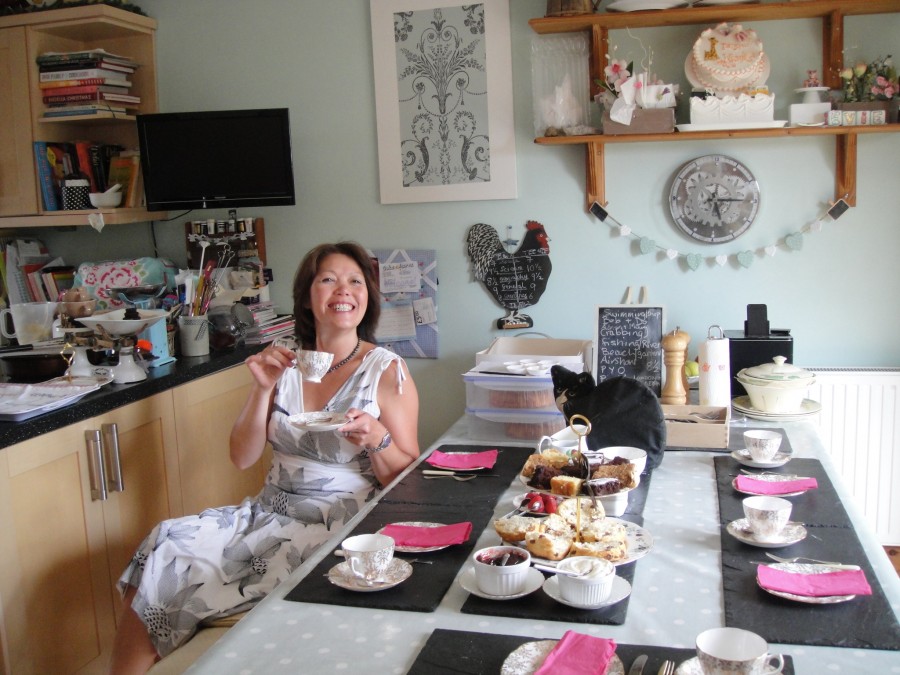 Thank you, Jasmine.  When we eventually returned to Chichester later that evening we visited Zizzi's restaurant, for a light supper and on recommendation of Joanna I had the Bolognaise, which I thoroughly enjoyed!
Saturday 12th July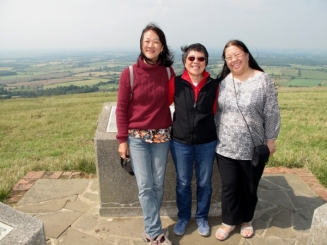 We arrived at Serena's flat in Brighton or should I say her artists' studio because the walls were adorned with several of her fabulous paintings and art works, she is such a talented artist!  Shortly after arriving Serena drove us up to Devils Dyke where we had a lovely pub lunch.   We later wandered around the town and visited the famous lanes of Brighton before returning to the flat where Serena had a lovely Casserole Cooking for Dinner.  Sue J arrived from Bromley in time for dinner and she also stayed at the flat over the weekend.  It was the first time the three of us (Serena, Sue and myself) had been together since we arrived back from our jaunt to San Francisco so it was extra special.   I was fortunate to be sleeping in Serena's work room and I went to sleep each night admiring her paintings but it was impossible to choose a favourite.
Sunday 13th July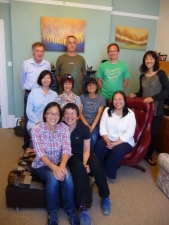 After a brief visit to the Marina and Laughing Dog Art Gallery where many of Serena's paintings are on display we returned to the flat to prepare food as Serena had graciously volunteered to host a meal for several other adoptees.  Later that afternoon: Melinda H, Susie U with their husbands, Mei E, Marie R including the four of us Janet, Sue Serena and me enjoyed a wonderful meal.  What a gathering it was just fabulous meeting in such a small intimate group as this allowed us the opportunity to share personal details with each other and bond together in friendly surroundings.  After the meal we continued our incessant chatter as we walked down to Brighton pier but sadly at this point our group started to dwindle as both Melinda and Susie had to return to their homes.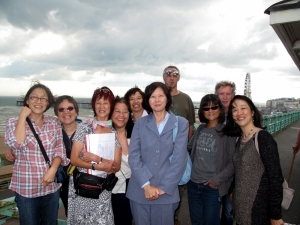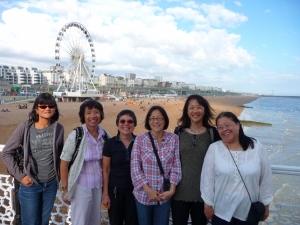 Monday 14th July
Janet's Birthday (although officially on 15th and the date of her parents wedding anniversary therefore they moved her birthday to 14th in order give Janet her own day).
Sue, Janet and I left Serena's shortly after 8 am as we were going to visit a lady who was a young nurse at Fanling between the years of 1964 to 1968.  We were greeted with a noodles and bean sprout meal with runner beans that had been cooked by her husband. Wow what hospitality, we were all honoured that she was prepared to see us and had so many questions but we felt that it would be impolite to continually quiz her during our first meet.
Thank you!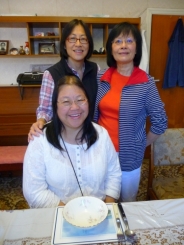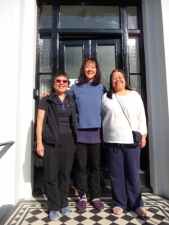 We then drove over to South Bromley to Claire's for a light lunch and it was just so special to be sitting in her garden on a blistering hot day having a good catch up!  Thank you, Claire.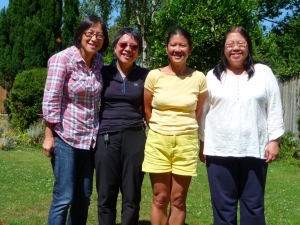 After lunch Sue took us to her house in South Bromley where Janet and I were to stay for the next few days, here we were able to relax and chill out.    After arriving at Sue's we watched Janet open her birthday presents taking care to saviour each moment!  Later we were treated to Sues husbands special Coq a van which went down like a treat. Thank you for your hospitality Sue.
Tuesday 15th July
My 'non birthday' as I have decided to not to celebrate this date anymore,  those who know me, knows it does not fill me with delight to celebrate something that perhaps wasn't that a joyous occasion for my birth mother.  Therefore I have decided to celebrate 14th September as a more meaningful day which was the day I came to the UK for a new life with my adopted family this gave me hope and a better future.  Here is something to celebrate!
Sue, Janet and I set off to China town to meet up with Eva and Tessa for yet another meal in a Chinese Restaurant but this time a Dim sum and Thank you Eva you are so kind to treat me.  It was great to catch up with both Tessa and Eva.   Thank you both.
Later that evening after returning to Sue's we went to a lovely Turkish restaurant for another meal but I was somewhat full from our Dim Sum lunch but I did manage to share a lamb dish with Sue,  (Brings back memories of what we did in San Francisco doesn't it Sue ?).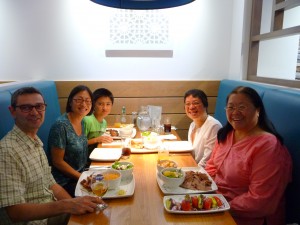 Wednesday 16th July
 We had a lovely visit to BAAF offices to see Julia Feast and we owe a great deal of gratitude to both her and the organisation for the assistance they have given to our UK HKAN group.  During the time I was contacting fellow adoptee sisters BAAF conducting a survey on adoptee girls who came over to England in the early 60s through the ISS refugee project.  Although the initial study has closed Julia was delighted to inform me that they have received further funding to analyse additional information. Julie's continuing support and friendship has been so important to so many of us and hopefully BAAF will conduct a further study to see how our lives have progressed since the original survey!
The final treat for the day was to go and stay with Janet's Sister Liz for a couple nights in North Harrow.  It was such a lovely gesture to meet her as she has an exceedingly busy working schedule.  Thank you.
Thursday 17th July
Janet and I had a lovely visit to Jasmine G for lunch and although she was getting ready to move out of her flat she more than welcomed us.  Isabella helped with the lunch preparation and it was just fabulous catching up!  I have been privileged to see the St Christopher's photos which I will be adding to the partitioned area of our website which is viewable to members of the HKAN group only.  So if you are not a registered member please go to the http://www.hkadopteesnetwork.com/become-a-member/ and follow the instructions to apply.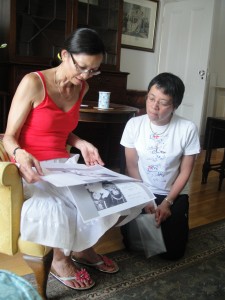 Friday 18th July
Off to Bocking, Braintree so that I could visit a lady who is 92 years old and who has known me since I first came to the UK to be with my adopted family, although she was our neighbour I have always to called her Auntie Margaret.  Thank you, Janet for this detour before heading up to York.
Our final last minute meeting was to see Esther for lunch at a Garden Centre just outside Cambridge.  This was brilliant and it was a lovely finish to our tour on such a beautiful day.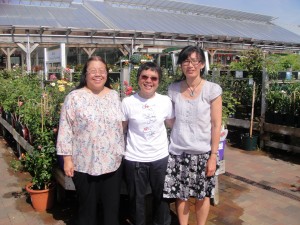 Our final stay of the tour was at in a Premier Inn in York so that Janet could get her John Lewis shopping fix before we headed home on the Saturday.
The weather was a real treat all the way through our journey and we met so many old friends we could not have wished for anything more.  Janet you were a lovely thoughtful travelling companion a true friend and birthday buddy, Thank you.
Serena's account
Debbie and Janet drop into Brighton!
It was lovely to see Debbie and Janet arrive safely here in Sunny Brighton. Northerners meets the Southerners :-)
I drove them up to the picturesque Devils Dyke, South Downs, National Park. We had a wander around the top area after a hearty lunch. Afterwards we headed back for a walk around the historical North Lanes shopping area, we where tempted to buy a few things to keep us going. Janet did buy lots of nice fudge for us.
At 7:30pm Sue arrived from the station to also stay in Sunny Brighton. We had an evening meal a good old chin wag, (chat) and retired for the evening, ready for an early start the next day. 
Sunday morning we drove to the Laughing Dog gallery to view a few of my paintings on exhibit there with other artists. We then looked around the Marina at the boats and walked towards the top of the multi-storey car park  to spend money at the car boot sale. We bought a few bits and bobs, managed to squeeze it all into the car! Headed back to my home ready for the rest of the guests, Adrian, Susie, Malinda, Tim, Mei, Marie and hubby Pete arrived after tennis. 
Lunch was served before a big stroll along the Brighton coast towards the Palace pier. No one wanted to go for a swim which was a shame. We did see some swimmers braving it. The day ended with a nice cupper or a hot chocolate, 2nd best hot choc I have tasted in Brighton!
TWO NORTHERN LASSES GO ON 'LE TOUR' written by Janet
As the intrepid Tour de France cyclists pedalled North to South, I felt inspired as I prepared to follow them days later. I resolved to cycle more, then packed, dressed for Sunshine (a phenomenon rumoured to occur south of the Watford Gap) and drove to collect Debbie. We couldn't cycle because, to see 16 sister adoptees, we were going to take in 1,200 miles over 12 days and 21 counties.
A big thank you to Debbie, for her lovely company and for making the arrangements. Debbie and I played to our strengths – hers was organising, mine was letting her. Her planning and generous hospitality from several friends underpinned a most successful holiday. It was great seeing friends and meeting new ones.
Map: 01JanetContemplatesPlanningTheForthcomingTour.png
Caption: Janet contemplates planning the forthcoming Tour.
Map: 02WhatWeActuallyDid.png
Caption: What we actually did. Key: Bh Bournemouth, Bn Brighton, By Bromley, C Chichester, EL East Layton (tea room), P Portsmouth GS Great Shelford, MH Market Harborough, Y York
The rain (sometimes torrential) stopped as we approached The South, pretty much level with Watford Gap! Our first stop was to see Yan, and we shared a lovely meal at an historic coaching inn in Market Harborough (roast pork with all the trimmings, steak with salad and handcut chips). Next day Debbie and I headed straight for the south coast. Our first glimpse of the sea (only just) was at Bosham Harbour where we had tea and cake overlooking sail boats moored in dry mud as the tide was out (when it's in it covers the road).
Picture: 03BoshamHarbour.jpg
Caption: Debbie at Bosham Harbour
Joanna looked after us well, with food for body and mind. She cooked a vibrant yellow cauliflower korma curry with chick peas; followed by an indulgent homemade strawberry and cream cake, so nice we had some for breakfast too. While with Joanna we visited Chichester Cathedral and the Bishop's Palace Garden. At Pallant House, a modern art gallery in an historic house with a 21st century extension, I was impressed by a dress made of (deflated) red balloons, and by "Scottish Colorist" J.D. Fergusson, especially his punning "Megalithic" depiction of his wife Margaret ("Meg").
The Tour could be called 'Two Increasingly Fat Ladies' as Debbie and I dined well throughout – Chinese, French, Indian, Italian and Turkish, and one or two or three full English breakfasts. (I've now lost the weight I put on.)
Beccie, Joanna, Debbie and I explored the Mary Rose exhibition in Portsmouth. About 500 men died in 1545 when the Mary Rose, Henry VIII's flagship, sank in battle against French invasion. We saw the salvaged hulk and the painstakingly restored crew possessions. The exhibition was shipshape, literally, to give a feel for the Mary Rose's size, shape and even height. A staff member, dressed in Tudor costume, told us about the ship's surgeon, an important and wealthy man – we saw the amputation saw and bowl for hot pitch to seal the stump. There was no hygiene and no anaesthetic except drinking rum, ouch. It didn't put us off lunch – at a Chinese restaurant in Portsmouth we tucked into pork satay, chicken, stir-fried vegetables, Singapore noodles, shrimp, and crispy chilli beef.
Picture: 04MaryRose.jpg
Caption: King Henry VIII welcomes us dolefully to the Mary Rose museum.
That evening Joanna, Debbie and I ate at an Italian restaurant, a first for Debbie at that particular franchise. Next day in Bournemouth with Joanna, Joy, and Debbie, Jasmine P. gave us a posh cream tea with homemade scones and beautifully light homemade cakes.
Picture: 05JoannaJoyDebbieWithBournemouthPierBehind.jpg
Caption: Bournemouth sea front and Pier.
Picture: 06JoannaInTheFunicularAtBournemouth.jpg
Caption: Travelling in the funicular up the cliff face, Bournemouth.
Picture: 07JasmineP_HighTea.jpg
Caption: Jasmine presents high tea.
Serena had invited Debbie, myself and Sue to stay in Brighton. Serena's flat has some of her art on display so we Artful Lodgers loved looking round. She hosted a lunch buffet, this was for the largest group gathering – 11 of us (see her write-up). The star dish was Serena's Mediterranean vegetable and tuna bake, with home-prepared coleslaw, potato salad and rice salad. Debbie sculpted a pineapple for the fruit salad. Marie and Mei brought yummy homemade goodies.
Picture: 08SerenaBuffetMainCourse.jpg
Caption: Serena's buffet – the main course.
Then we walked along the sea front. Susie, Melinda, Adrian and Tim said farewell and left the rest of us to amble along the Pier. I bought a pancake that was made to order at a kiosk, mainly to watch it being cooked. It came only in one size – so large it had to be folded. Afterwards we strolled into town to find a coffee shop. We had to look in more than one as I needed a cushion; Sue suggested I sit on a pancake.
To start the second week of Le Tour, Sue put Debbie and myself up very comfortably – we all had an enjoyable and very relaxing time, and were well fed too, starting with a delicious homecooked coq au vin. During that time the three of us saw Claire, who provided a light lunch of minted lamb burgers in finger rolls with Mexican salsa, which we ate in the garden to enjoy the heatwave.
Next day Sue, Debbie and I shopped in London's Chinatown, then met Eva and Tessa at the Lions in Chinatown. We shared four types of noodle dish, vegetable fried rice, a selection of dim sum, and of course jasmine tea throughout.
Picture: 09MealAtTheGoldenPagodaChinatown.jpg
Caption: Lunch in Chinatown: Sue, Debbie, Eva, Tessa, Janet.
Debbie and I shared a meal with Sue and her family at a Turkish restaurant in Bromley. I've eaten Turkish before but a Turkish restaurant was a first.
Picture: 10DebbieSueTrainToCentralLondon.jpg
Caption: On the overground train into Central London. I love using London public transport. I saw the Shard and the Houses of Parliament from the train, the River Thames gleamed in the morning sunshine.
Picture: 11BreakfastInKirbyStreetNearBAAF.jpg
Caption: An English breakfast (poached eggs on toast) and a Continental breakfast (croissant with jam).
Debbie and I saw Julia at BAAF before travelling to our London base in Middlesex. Next day we travelled by Tube to see Jasmine G. who'd prepared a meat, salmon and prawn salad buffet, followed by strawberries, a perfect light lunch as by then it had reached 33 degrees.
Picture: 12JasmineG_SaladBuffet.jpg
Caption: Part of Jasmine's lunch buffet.
Heading homewards, Debbie and I stopped for a long lunch with Esther in Great Shelford near Cambridge. As we re-entered The North, the rain began again. We stopped overnight at York and next morning visited the new John Lewis store there. Someone was trying to tell us we'd shopped long enough as after a few hours the fire alarm sounded and the staff evacuated everyone. It was raining heavily by tea-time (another all-day cooked breakfast at East Layton). While travelling Debbie and I chatted about where we'd been and who we'd seen. What a marvellous time – thank you so much to everyone!
….Anyone in the South fancy a Northern Tour?? Would love to see you!….
All pictures will be shown at the bottom as it's very difficult to position properly in WordPress  my apologies