Blog post written by Debbie Cook: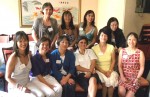 WOW when I arranged the first reunion of Hong Kong adoptees in Manchester back in June 2010  I had been so excited and apprehensive all rolled into one!   To think that I could pull this off scared me half to death.  Would people want to come?  Were they interested?    But little did I know then that I was going to be that catalyst that  would lead  to many more reunions.
All my anxieties were soon swept away when incredibly 10 of us met for lunch.   We were all running around showing each other with great excitement our newspaper cuttings, photos, and relevant documentation.   It's ironic to think that we were mostly strangers showing each other all of what we had of our early beginnings, and we were in awe of each other's stories, but this coming together has cemented many new friendships .  To suddenly see ourselves reflected in each other not just because we all look Chinese but because of our shared experience and the realisation that we weren't the only one was very comforting.
At the reunion ordering food seemed to be low on the agenda because there was just so much chatting to be done, in so little time and I realised that I would have to arrange another reunion.  I remember we were all eager to have a group photograph taken and it was necessary to move furniture in the private dining room to obtain the best photograph.
I arranged this reunion in an attempt to generate interest in the first ever Chinese Adult Adoptee Worldwide Reunion, in our home land Hong Kong.   Diana an adoptee who I had met for the first time during Easter 2010 had inspired and encouraged me on my journey.
Now for the first time in the UK after all these years we have a group that we can all belong  to and feel comfortable in.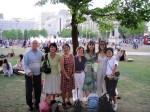 Attached is a picture of some of us standing in Piccadilly Gardens