by Claire Ling Chi Martin 25.9.19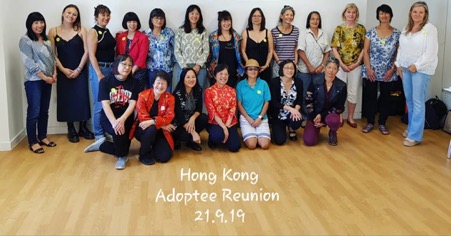 We UK-based Hong Kong Adoptees enjoyed an action-packed London re-union on Saturday with 3 speakers and a new venue. Around 25 of us assembled in Bush House, the old BBC building in The Strand. Meeting rooms aren't what they once were: London space is worth your weight in gold so multi-use is the mantra and we were confronted with a cupboard full of yoga mats. Fortunately we were rescued by the student staff at King's (the new occupants) who transformed the room into something more familiar with tables and chairs. Hot water was a challenge too far on a weekend but we adoptees are adaptable and ingenious so microwaves and Costa runs saved the day.
Kate got us into the swing of things as usual with an exercise to spark our increasingly murky memories. Raffle tickets randomised the order of contributions rather than tiresomely working our way round the room. Anecdotes ranged from babies to tractor rides and it was a brilliant way of discovering something new about each other. Sharing fond memories of moments with adoptive dads was particularly poignant as a number of us in previous meetings recalled that we were scared of men when were first introduced into our new UK families. My father told me he couldn't go near me for first 2 days without me screaming my head off.
We welcomed the two Julias. Julia Feast, the independent adoption consultant who wrote about the Hong Kong Project, joined us again, and we thanked her once more for bringing so many of us together after decades apart. Julia Bell, the DNA detective, came to talk to us about how she'd traced her mother's birth family and developed the skills to solve the most difficult, and, in some cases, notorious and high profile birth searches. She has been key to helping Long Lost Family with some of their most dramatic discoveries and gives hope to foundlings with no name and no means to access records. She was honest about the challenge for those with East Asian heritage – 90% of the 30 million people on DNA databases are deep-rooted Americans. She also de-mystified some of the lingo and talked us through the end-to-end testing process and what the Dickens to do with the results once they're through. Julia B gave tips on how to contact our closest matches from out of the blue without putting them into a tailspin and scaring them to death. Crucially, she offered the means to access the type of DNA kits most suited to us, on-going expertise and the prospect of meeting again as a group to compare results.
I discreetly (hopefully) updated the group on my Long Lost Family-sponsored trip to Hong Kong and gave the game away on reality TV filming methods. I trod the same path as those who had gone to our birthplace before and recounted my experience of the local press appeals and what a couple of our American adoptee friends charmingly refer to as The Dumpster Tour. I recalled the frustration I felt on discovering that there was no record of me in Po Leung Kuk, the orphanage where I had convinced myself I had shared a room with Laura and Joanna. I have been told that the episode featuring my search will be aired in March 2020 and I undertook to keep everyone posted when the date is confirmed.
Laura thrilled us with a vibrant and entertaining account of how she holed up in Hong Kong for 3 months and sniffed out leads under the guidance of an extremely determined Winnie Davies of Look 4 Mama fame. She shared her success with the group and showed us pictures of her recently discovered birth family. In the process, she helped them find and unite with a brother that had been sold to the village chief. They had been scared of taking the leap and they were grateful for their fearless new family member. Interestingly, some of them are still extremely wary of further discoveries – a sentiment which gives us an insight into why some Hong Kong families are reluctant to come forward – never mind that it's still illegal to abandon children and they risk falling foul of the law.
Julia Bell was able to reassure us that our data is safe if we test our DNA. She has recommended a reliable and secure provider that has the best matches for us. Without giving too much away, we've discovered that 3 of us have a distant DNA match with a mixed race teenager in Cornwall. My Hong Kong trip made me realise the scale of abandonment and the size of our birth families. This increases the likelihood that we're related to another Hong Kong adoptee. The more of us that test, the likelier it is that we'll identify patterns to help us.
We staggered up the road to Bill's on Kingsway for food, fellowship and photos. It had been a full-on gathering and this was our chance to socialise.