The Zoom link was only sent to people who accepted the email invitation – to ensure that only members of the Hong Kong Adoptee Network can access our online reunions. This helps ensure a safe and private environment where participants are confident to share their stories, thoughts and feelings.
Kate and Sue Welcomed everybody to the meeting.
Guest Speaker: Meaghan GILBERT (Chiu Oi-Yan) relating the history of Muriel TONGE, Supervising Nurse of St. Christophers' Orphanage, Hong Kong.
Meaghan commenced her presentation by explaining how her life was changed during her adventures in China and after obtaining her records from the Social Services in HK.
On her return back home and with the help of media attention she was able to contact Muriel TONGE (nee KITCHEN), who sent her the Book 'The Banquet: My Grandma's Memories of China', by Emily FOSTER.
For those who have not read this book briefly: Muriel KITCHEN, was born to Christian Missionary parents in China and lived during the turmoil of: battling warlords, the Japanese invasion, and the rise of Chinese Communism. She obtained a nursing degree in Canada, where she married Walton TONGE before she returned to China with her new husband. They were eventually expelled from China by the Communist regime and they settled in Hong Kong, where Muriel worked as the Supervising Nurse at St. Christophers' Orphanage (from 1958 – 1962)
Muriel always said that she hated the word 'Abandoned' in relation to children in her care and preferred the term 'Re-Gifted Children', I am sure we can all resonate with that. She also said that: 'where you start in life does not have to determine where you belong'.
In the Circle of Life we are all connected
What is remarkable is that in 1947 Muriels' mother who was on a plane that caught fire, she took hold one of the babies and jumped out of the plane but unfortunately only the baby survived. Several years later when Meaghan was in China she located the Sole Survivor of that plane and was able to connect Muriel with the survivor.
We were all treated to the wonderful 8mm video footage that Muriel had given to Meaghan because miraculously she is in this clip. To see oneself at a such a tender age was very emotional as so many of us do not have anything of our earlier life.
It was fascinating and a very moving presentation from Meaghan so a big Thank You. There were many questions asked after the breakout rooms to allow Meaghan to have a breather as it was quite emotional and a personal account
This Presentation was recorded with the consent of Meaghan and can be found in 'Members' Presentations, because of the personal nature of Meaghan's presentation, we want to ensure it is viewed by HKAN members only. Therefore, an extra layer of security has been put into place, which requires authorisation from Debbie before it can be accessed.
Step 1
Please check you have set up the following as you will need these to access the presentation
HKAN personal password – to Login the Members Area
Protected Presentations password – request from Debbie
Gmail account (free) – to gain authorisation to view the presentation
Screenshots were taken before we were split into smaller groups and sent to Breakout rooms which allowed us all to catch up and talk to different people.
Then by magic we were all then transported back to the main group where a general discussion took place and questions could be asked to Meaghan.
At the end Kate did her Survey which is quite interesting to see the results of why we want this group and what we get out of it.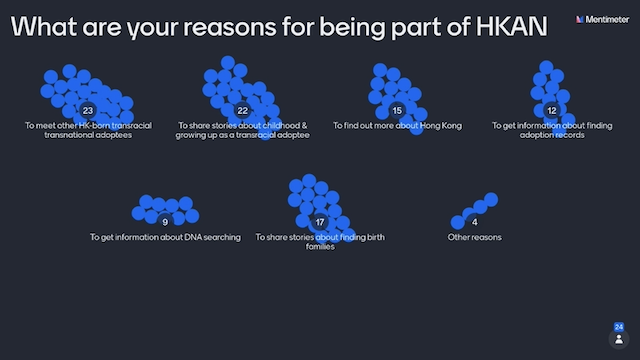 Debbie closed the meeting Thanking both Kate and Sue for organising the International Zoom Meeting, A special Thank you to Meaghan our guest speaker and all the participants to make this successful.