Serena's mother Brenda has very kindly written the following:-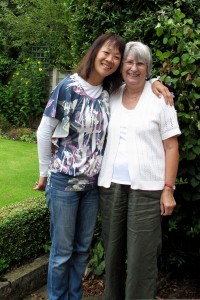 'I sat on the train travelling to Manchester and wondered what the forthcoming meeting on the following day would bring.   There had been over forty years of non-communication and a wall of silence was to be broken.     Four mothers with their adopted four daughters were to meet for a few hours during Wednesday, 14th August, 2013. It had been over forty five years ago that we all had laid plans to adopt a little child from a Hong Kong Children's Home.   During those years I had had no contact with any other family who had welcomed into their home a little Chinese toddler, even though 106 such children had been brought over by the BOAC planes to England.  Why the non-communication?  Simply in those days support groups were rare and not even considered.   I wondered whether there would be awkward silences, and whether we would struggle to enter into a free dialogue with one another.   I wondered what the outcome would be for us all – beneficial or would it be just a brief insignificant interlude in our lives.   Vanessa and George were hosting the meeting and I found myself immediately 'at home' in their house in Hale Barns,Cheshire.   Wednesday morning found us waiting for the others to arrive, and when they came it was like a meeting of 'friends'.   We all had something in common – we had all taken the same step into the same unknown journey.  We chatted, exchanged our different experiences, we drank tea/coffee and wine, we had a pleasant lunch in the garden and all the time the conversation flowed.   There were no tensions for we had so much to tell one another and so much to learn from one another. Was the meeting beneficial?  Yes and yes again.   I gathered a greater understanding of the various challenges we all faced during the first few years of helping a little daughters to adjust to family life in Britain, but the loveliest moment during that day was to see my daughter Serena freely conversing with her new Chinese friends.     Do I have any regrets of the meeting?  Yes.  I regret that this meeting was forty-five years overdue.  
**********************************************
Joanna's mother Reverend Anne – August 2013 visit
​One beautiful, sunny day in August, my daughter, Joanna, and I drove to Cheshire to meet three other mothers and their daughters who were adopted in the early 1960s.
​We had a good time swapping our early experiences, and discovered that although these were similar, they were also very different!  For example, one mother (a teacher) had researched all the data on maternal deprivation, abandonment and adoption when she first had her daughter, whereas I didn't discover this information until I trained as a teacher myself in the 1980s!   We found our daughters had various phobias which probably were rooted in their early babyhood experiences.  For example one couldn't stand furry things, another birds and another flies.
​I was impressed by the way the girls, sitting together on the sofa, seemed bonded together as if they were sisters. They didn't look alike, but they appeared to feel alike.
​We enjoyed great hospitality, lovely food and friendship, a beautiful garden to sit in – thank you very much to our hosts.
​Although we Mums maybe getting on in years, I can recommend this type of get together, I found it very rewarding. I hope the girls did too.
**********************************************
Debbie's mother Vanessa has written the following too: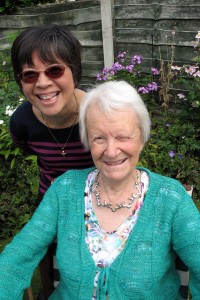 I have thought so many times about how useful and interesting it would be to talk to other mother's who had adopted a baby from Hong Kong, especially at the very beginning when there were so many problems. So, I was delighted when Deborah told me that the mother of one of the adoptees had said "what about us, you would not be here if it hadn't been for us?" I had nearly mentioned it several times to Deborah but she was so involved and enthusiastic about the whole adoptee set up that I thought maybe I should stay in the background as I felt it was "her thing" It soon became apparent that many mothers had the same idea, so we set a date and decided to have a buffet lunch at our house.
There were four mother's with their respective daughter's. I think we could easily have expanded it but eight people was a manageable number in a private house. Serena, an adoptee, and her mother travelled up from Kent the day before and stayed with us which was a great help in preparing for the day.
The day dawned fine and sunny, the other mothers and daughters duly arrived and we were able to take our lunch out to the garden (which I always think makes it nice and informal) and Serena took photos of us all. It was soon apparent that we had all had problems of one sort or another, mostly quite different.
In our case the problems all stemmed from insecurity which is hardly surprising as Deborah had spent just over two years in the Fanling baby home. She was then given to a stranger to bring over from Hong Kong on the long flight to Heathrow airport where we met her. She was almost flung into my arms with the words, "she has yelled all the way over, been sick and her dirty clothes are in this bag, oh, and she needs her nappy changing" Wow! There was another mother meeting a baby, we took them into the Ladies to change them and then departed for Manchester at a time of no motorways and the journey took about five hours!
I had not expected to find looking after Deborah easy but it took a year of considerable difficulty and a second year when life became a little easier. I would say that realistically her adjustment was five years in total. There were times when I despaired that Deborah would ever fully adjust and it was hard to know if I was handling the problems correctly.
I was only visited by the National Childrens' home once and had no other professional help or advice. Fortunately I had wonderful neighbours who helped with good old fashioned common sense which is all I had to go on. How marvellous I thought at the time it would be to talk to other mothers in the same situation but with no internet it would have been impossible. All four of us mothers agreed wholeheartedly with that thought. We all felt the day had been a great success and agreed that we should put something on paper from our perspective.
I know that it has been wonderful for the adoptees to get to know one another and find people in exactly the same situation as themselves. So this is my attempt! I think that having the mother's perspective, in a way, completes the circle.
Picture of the 4 of us enjoying dinner at a local pub at the end of a lovely day.
Serena comments too;
When I bought my mum to the BAAF BCAS Gathering which was in January 2011 at The Nuffield Centre, London I was surprised my mum was the only one to show up. Ever since then we have both been curious as to how other mums felt and was secretly hoping there would be more mums meeting up another time.
So when the opportunity for a mums & daughters get together date was arranged we were both very excited.
The day was lovely and relaxing with 4 mums Ann, Brenda, Joan and Vanessa and 4 daughters. Great to catch up with familiar faces, Joanna and Debbie and to meet Kwai for the 1st time.
Watching and listening to the mums chatting about us was really interesting and also hearing their side of the story was such an eye opener as I had only heard my mums views about adopting me.
Thanks to Vanessa for hosting the day in their home we were pleased it was a lovely day and we could eat out in the garden.
I enjoyed the day and was mainly pleased for my mum that she had finally met another mum who has had a similar experience to her when she adopted me.
Joanna Comments too:-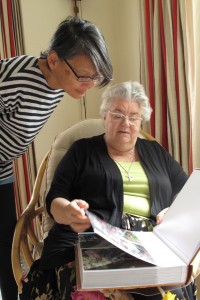 When I told my mother that Janet had organised a reunion in London for the December 1962 group of nine adoptees, she wondered why the mothers weren't invited. This prompted me to suggest to Debbie that as her parents lived in the same area, then perhaps meeting them, might satisfy her.
Serena's mother was keen also, and willing to travel north to join us.
With Debbie's efficient organisation, we synchronised dates to congregate for a light lunch.
Once we had been introduced to Kwai from Yorkshire, there was plenty of reminiscing amongst the mothers.
Serena brought her super camera (I struggled with my modern phone cam), to record the event.
In Debbie's childhood sunny garden, over delightful salad and puds, I overheard various versions of how strange each mother had found their adopted daughter, struggling on occasions to understand how different and aloof we seemed until settled into their families; my being "quiet and still" was a worry, from perusing (Serena's mother) Barbara's essay on the psychology of attachment.
The day went so well, and I am glad my mother Anne, had this chance to meet up and exchange memories with Vanessa (George), Barbara and Joan.
All pictures courtesy of Serena.