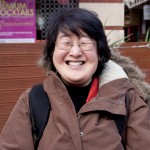 An Account of the UK HKAN Reunion in London on 21st April 2012 contributed by Claire Martin:
This was my 4th UK HKAN Reunion (not even counting the Nuffield event in January) so I considered myself a bit of a veteran. Was it only 18 months ago that I sat, stunned, in a Birmingham restaurant, staring at a sea of Chinese faces? Images floated in slow motion, black and white photos of sombre babies in brocade jackets, documents tenderly passing from hand to hand, snatches of conversation in disembodied accents – like mine, never quite matching the face – and one sad phrase, "Place of abandonment" that settled ever since like a thorn in my unconscious mind. Spring followed and our first London reunion, home turf and familiar faces made it so much easier to welcome new adoptees, who, like I had done , froze like rabbits in the headlights.
"Look how we've grown!" as a metaphorical kindly aunt may have exclaimed. From a handful of adoptees meeting for lunch in Manchester, in less than 2 years, there we were, 58 people stuffed in a London conference room. With Americans! And a fella. We welcomed our first brother to a UK reunion. Adopted by a forces family, as a number of us have been, he followed his father into the British Army. He grew up in the North of England and now lives in Leeds.
You just knew how big we were now when we were faced with a panel. Debbie, the Great Organiser, Jess, our designer and photographer and Kate who facilitated the event. The beginnings of a Committee, no less.
We broke the ice, (not literally, of course, since the capricious London weather decided to be glorious that day), with a couple of warm up exercises. One involved squeezing past tables and climbing over fellow adoptees to assemble in front of volunteers holding placards with inspiring words such as Travel, Creative, Reading or Sporty/Outdoors. The purpose of this (I'm presuming here) was to identify which word describes us best and gives us the chance to build rapport with adoptees with similar interests. No prizes for guessing which group was least attended. What do expect with 35 menopausal women? Kelly Holmes?
A later exercise was really revealing. Volunteers stood against the back wall holding numbered placards labelled Other Adoptees (content meeting other adoptees only), Curious (considering finding out a bit more), UK Only (research extends only to UK so far), Hong Kong (research extended to Hong Kong), Received Information (oh, happiness), Returned to Hong Kong in Connection with Search (and maybe even done the "Found & Hope" – looking for place of abandonment) and finally, Contact from Family (I should be so lucky). After the scrum like activity of the ice breaker, it was decided to invite us to stand up as each title was called out, each reflecting the milestone we had reached on our Search Journey. Had I been clever enough to be able to record, analyse and depict the results, I would imagine that a bell curve like diagram would emerge. The majority of us had embarked on a treasure hunt for information on ourselves, accessing adoption records from the two sponsoring UK based children's homes, National Children's Home (now Action for Children) and Barnardo's. Those further along the journey had contacted Hong Kong Social Services and the like. At the extremes were those who weren't interested in roots searching and, to enormous applause, was one of our American sisters, standing alone as the one who had found blood relatives. Way to go, Girl.
During lunch we discovered that the 9 of us who arrived at Heathrow together on 20th December 1962 and photographed by the national press had all been traced and named. To our delight, Debbie managed to unite 6 of us at the reunion and we had our photos taken together holding That Picture.
It was fantastic listening to our American sisters and particularly moving to hear from Kim, who established the Fanling website that, for many of us, gave us the first step on our "Journey of a Thousand Lives?" and united us in a new family of Hong Kong adoptees across the globe. We were all moved to tears when she spoke tenderly of Lucy Clay as "our mother" and how she died in obscurity and relative poverty. I was privileged to meet the lady who had looked after Miss Clay in her final months. We adoptees are all grateful for the love and care she gave her in her twilight.
Jess introduced us to our new logo and website, and, as is usual at our meetings, there's always a nice surprise for us. This time it was a little mirror each so we could finally see someone looking like us and our logo on the other side to remind us of our new family.
We again welcomed a guest speaker. This time it was Margaret Bryer of the International Social Services (ISS), now known as Children and Families Across Borders (IFAB). Margaret gave us a potted history of the ISS, a detailed explanation of the Hong Kong Project which brought so many of us to the UK, the USA and New Zealand and some insights into how the adoptions were conceived, planned and implemented. Jess, I know, will find a link for you to read in detail for yourself.
The one thing that struck me most of all was Margaret told us how much our biological mothers cared for us and what a wrench it was for them to give us up. Let's no longer think of ourselves as abandoned, Sisters and Brothers. We were left to be found.
Claire Ling Chi Martin
Arrived in the UK 20th December 1962.